Multi-Dimensional Snapshot Imaging
Introduction
Three-dimensional snapshot imaging has applications in many areas where dynamic systems are to be studied – in fluid-flow problems, where better fuel mixing could improve fuel efficiency by up to 30%; in retinal imaging, where 3-D images of the optic nerve could assist early diagnosis of glaucoma; in microscopy where the dynamics of biological systems can be studied, such as virus attack on cell walls.
Distorted diffraction gratings give 3-D imaging
Lens acts as if the focal length is different in each diffraction order.
Undistorted Grating - identical images of a single object layer in each order



Distorted Grating - images of different object layers on a single image plane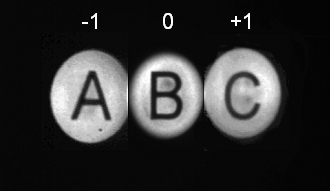 Careful design achieves uniform magnification for the images at each depth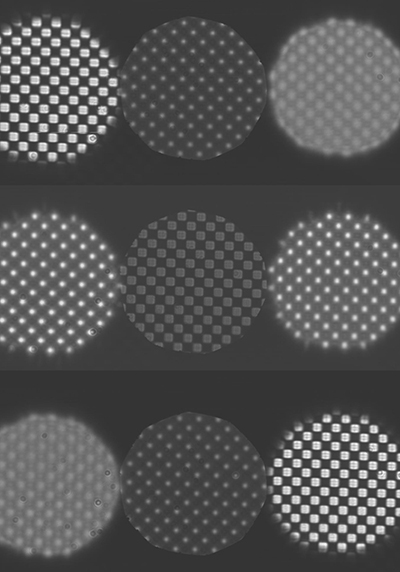 40-wave defocus grating, 100x Oil-immersion Lens, Telecentric to within 1%.
Blanchard PM and Greenaway AH, Simultaneous multiplane imaging with a distorted diffraction grating, App Opt 38(1999)6692-6699
Multi-Planar Imaging Microscopy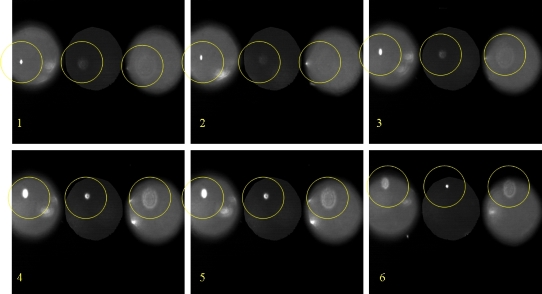 Image sequence of 200nm fluorescent bead motion. Plane separation ~3mm expect ~10nm 3-D position resolution. Circles track the bead.
Wavefront sensing or relative image size gives 3-D position.
Version using anamorphic optics is more efficient and allows greater bead density but is less accurate.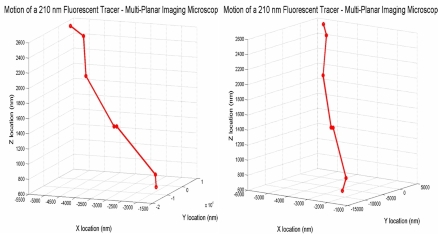 Steroscopic view of evaluated 3-D trajectory
Retinal Imaging
Snapshot multi-spectral imager for retinal imaging studies.
Akin to the Lyot filter in concept, the imager uses birefringent plates to image various spectral bands as spatialy-separated images with precisely-know registration.
Combined with 3-D capablity, this makes a powerful tool for retinal imaging.