ERPem news archive (Sep 06 - Dec 09)
December 2009
In 2008-9 we have been successful in obtaining total 'project' grant funding of approximately £9M of which collaborative grants involving colleagues from both Edinburgh and Heriot-Watt resulted in approximately £1.5M of funding. Award highlights this year include:
A New EPSRC Industrial Doctorate Centre at HWU in Optics and Photonics Technologies , worth £4.8M.
UK-China Science Bridges project, worth £1M, for research and development in 4G wireless mobile communications.
EPSRC/Mobile VCE Strategic Partnership: a major new £2M project on energy efficient cellular networks with £560k awarded to JRI SIP.
40% (6/17) of all UK defence signal processing research awards in the recent EPSRC-DSTL open call as part of the MoD's new University Defence Research Centre (UDRC) total value of JRI SIP awards: £768k.
---
December 2009
Keynote/Plenary Talks: Prof Grant gave keynote addresses at UK Trade and Investment Seminar, Tokyo, and Digital Concept Partners - General Assembly, Osaka; Prof Lane gave the Invited Plenary: "30 year Review of Unmanned Underwater Technology", Unmanned Submersible Technology Symposium, New Hampshire.
---
November 2009
Student Chapter of Society of Industrial and Applied Mathematics (SIAM)
Heriot-Watt University, together with Edinburgh University, has recently established a student chapter of the Society of Industrial and Applied Mathematics (SIAM), the world leading society for industrial mathematics.
---
November 2009
David Summers, CEE member at Napier, has died suddenly at the age of 62. David worked in the area of Turbulence and will be sorely missed by colleagues. His obituary can be found here.
---
November 2009
SELEX Innovation Award to Dr Jason Hong of IIS
The Directors of SELEX Galileo have awarded a Bronze Innovation Award to IIS's Jason Hong. This prestigious prize will be given at Sopwell House, November 19th.
---
November 2009
Queen's Anniversary Prize for Robin Mackenzie
Congratulations to Robin Mackenzie (CEE) and his project team who have been awarded the Queen's Anniversary Prize for Higher and Further Education for 2009. This highly prestigious prize is awarded biennially to reward universities and colleges that demonstrate work of a world-class standard of excellence. The award was made in recognition of the outstanding contribution in the area of acoustical engineering and the development of robust details for use in the Building Standard Regulations. The prize will be presented by the Queen at a national honours ceremony to be held at Buckingham Palace in February 2010.
---
November 2009
Shared-Risks Observing Offered On SCUBA-2
SCUBA 2 represents a major innovation from current submillimetre instruments. Incorporating state-of-the-art technology will allow the realisation of the first large-format "CCD-like" camera for submillimetre astronomy. Its development is a collaboration between IIS partners (the UK ATC and the Scottish Microelectronics Centre at the University of Edinburgh), the USA National Institute of Standards and Technology (NIST), the Astronomy Instrumentation Group at the University of Wales at Cardiff, , a consortium of Canadian Universities and the Joint Astronomy Centre (JAC).
SCUBA-2 Shared Risks Observing has been offered as an opportunity for the JCMT community to obtain early science with SCUBA-2 ahead of its full commissioning. It is a chance to demonstrate the potential of the science we can expect to produce with a complete and mature system. The IIS was a major partner in the building of the SCUBA-2 with the SMC involved in the detector fabrication and the UKATC designing and integrating the system as well as project managing the project. More details on the call is available from here.
---
November 2009
Joint EPSRC Proposal from Maxwell and ECOSSE
Collaborations between staff in the Maxwell and ECOSSE JRIs have led to a successful joint proposal to EPSRC called "Novel mathematical approaches for multi-scale modelling of three-phase porous media flow" which aims to formulate an alternative for Darcy's law under realistic three-phase flow conditions in oil reservoirs (funding £181k).
---
October 2009
Intelligent Software Conference Held by Maxwell
The Centre for Numerical Algorithms and Intelligent Software (NAIS) obtained funding from the US National Science Foundation for a major research workshop on Intelligent Software which was held in Edinburgh in October 2009. The goal of the workshop was to bring together leading researchers at the interface between computational science, applied mathematics, and computer science to discuss algorithms pervasive in the scientific applications community, and their implementation and deployment on evolving target architectures.
---
October 2009
IIS Project Receives Award
HYPOLED, an EC funded project in which IIS is a partner, has received the Excellent Award by the Korean Ministry of Education,
Science and Technology for its paper and presentation "HYPOLED - VGA OLED microdisplay for HMD and micro-projection" at the 9th International Meeting on Information Displays (IMID'09) in Korea. The Award was received during the IMID banquet on Oct 14. The JRI contribution to the project is developing models for for the OLED materials and is led by Prof Underwood, supported by Gerard Cummins.
Uwe Vogel, the project coordinator notes that "This Award has definitely been achieved by all participants (far beyond the authors of this paper)".
The Award certificate can be viewed here.
---
September 2009
Maxwell Lead Discussions with FSA
Researchers from the Maxwell Institute led a group of mathematicians in discussions with Lord Turner, chairman of the Financial Services Authority, aimed at promoting the importance of mathematics in the understanding of Financial Risk. The meeting was very successful, and will be followed up by further discussions to ensure that mathematical modelling will play an important role in banking and its regulation.
---
September 2009
Maxwell and ECOSSE Establish SIAM Student Chapter
The UoE and HWU have recently established a student chapter of the Society of Industrial and Applied Mathematics (SIAM). It is only the second chapter of its kind in the UK: the other one is at Oxford University. Its aim is to foster the exchange among graduate students (and academics) of ERPem. The current membership consists of students and academics from the Maxwell Institute and the Edinburgh Collaborative of Subsurface Science and Engineering (ECOSSE).
---
August 2009
Paper prizes: Two JRI SIP papers, by Wu, Thompson and Wallace; and Dmour and Davies, were rated as one of the top 5% of reviewed papers at this year's EUSIPCO 2009 in Glasgow and have been invited to submit a full journal version of this work to the Eurasip Signal Processing Journal. Vettenburg & Harvey won the poster prize at Photon08.
---
August 2009
Energy ERPem Appointee Given Personal Chair
Congratulations to Professor David Ingram, ERPem appointee in the Energy JRI, who has been promoted to Chair of Computational Fluid Dynamics.
---
July 2009
The SIP JRI receives multiple awards in Defence Signal Processing
The SIP JRI recently gained £1M in defence signal processing research contracts. DSTL, through the recently formed University Defence Research Centre, have just announced the awards from the open call for the joint DSTL/EPSRC programme in Defence Signal Processing. This latest round of awards was targeted at key strategic challenges in defence signal and image processing. Here, the University of Edinburgh and Heriot-Watt University researchers in the SIP JRI secured 6 of the 17 successful research contracts awarded across the UK. The awards went to: Prof Mike Davies (2 awards), Dr James Hopgood, Prof Bernard Mulgrew, Prof Yvan Petillot and Dr Daniel Clark.
The SIP JRI was also successful in the last round of research funding from Electro-Magnetic Remote Sensing (EMRS) Defence Technology Centre (DTC) (http://www.emrsdtc.co.uk/). This is one of a small number of virtual centres of excellence set up by the Ministry of Defence (MOD) to explore broad technology areas relevant to defence. The DTC are funding 2 projects within the SIP JRI, on space-time adaptive radar processing (Prof Bernard Mulgrew) and compressive sensing techniques for broadband sampling (Dr John Thompson and Prof Mike Davies).
Success in the DTC and DSTL/EPSRC awards will add to existing defence related research and further boost the SIP JRI's position as a leading UK research centre in Defence Signal Processing.
---
July 2009
For the second year running, a team led by Professor Yvan Petillot from Heriot-Watt University (of the SIP JRI) has won the European Autonomous Underwater Vehicles challenge, in which teams compete in a vast indoor tank to ensure their robotic vehicle can negotiate an underwater obstacle course using advanced sensor interpretation and planning. More can be found on the BBC News website here.
---
July 2009
Professor Stephen McLaughlin (of the SIP JRI) has been elected as a fellow of the Royal Academy of Engineering. This Fellowship recognises Steve's research excellence and in particular the contribution that he has made to its application in the real world. The Royal Academy is Britain's national academy for engineering, bringing together the country's most eminent engineers from all disciplines to promote excellence in the science, art and practice of engineering.
---
July 2009
China Bridges: The "UK-China Science Bridges: R&D on 4G Wireless Mobile Comms" (EPSRC Grant Ref.: EP/G042713/1), is one of four funded Science-Bridge projects with China and is led by Drs Wang (HWU), Haas (UoE) and Prof Grant (UoE). The project aims to enhance links with China to: accelerate the deployment of research knowledge; enable the acquisition of new skills; encourage wealth creation through improved transfer of research and expertise from the research base to businesses; and building science and innovation bridges with world-class universities and high-tech businesses. The project began in June and at the end of July 2009 a UK delegation visited Chinese academic and industrial partners, and workshop lasting two and a half days was hosted by Tsinghua University. The purpose of the initial visit and the workshop was to establish research links to Chinese partners and to discuss potential collaboration projects for an exchange program as part of a project work package.
---
June 2009
Sir Edmund Whittaker Memorial Prize Win for Maxwell
Every four years the Edinburgh Society awards the Sir Edmund Whittaker Memorial Prize to an outstanding young mathematician. The Whittaker Prize 2009 has been awarded to Agata Smoktunowicz (UoE Maxwell) for her outstanding work in non-commutative algebra.
---
June 2009
Congratulations to Professor Peter Grant, Director of ERPem and Regius Professor of Engineering at the University of Edinburgh, for being appointed an OBE for services to science in the Queen's 2009 Birthday Honours List. More details here.
---
May 2009
The biggest space telescope ever, the 3.5m diameter Herschel Telescope, was successfully launched on May 14th and is now well on its way to its orbit around the L2 Lagrangian point over 1.5 million km from the earth. One of its three instruments is the UK-led SPIRE instrument, comprising an imager and spectrometer working at submillimetre wavelengths (between 200 and 700 microns). Imaging at these wavelengths will enable us to understand the formation of cold, dusty and very distant galaxies, star formation buried in dust in our galaxy, and debris disks around nearby stars.
The Institute for Integrated Systems (IIS) Joint Research Institute partner the UK Astronomy Technology Centre (UKATC) built the Beam Steering Mechanism (BSM). The SPIRE detectors need to be 'jiggled' on the sky to fill in gaps between them, and hence get fully-detailed images. The BSM moves the image in two directions, very precisely. The BSM can also be used to 'chop' between an object and blank sky in order to cancel out the thermal background signal, leaving just the signal from the object.
The engineering challenges of the BSM are: the mechanism has to operate at 4K (4 degrees above absolute zero) to ensure that the astronomical signals are not swamped by thermal emission from the optics; it must dissipate very little heat – 4 milliwatts; and survive high levels of vibration at launch – up to 50 times the force of gravity - still at 4K. It is the first cryogenic mechanism built by the UK ATC for operation in space.
The BSM has now been tested in flight – it has survived the launch and is working perfectly.
---
May 2009
John Underhill of the ECOSSE JRI has been elected to the European Association of Geoscientists & Engineers (EAGE) Board in the role of Vice-President Elect for 2009-2010. He will take up the position of Vice President in 2010-2011 and be the EAGE president in 2011-2012.
EAGE is European-based organisation founded in 1951. It has the objective to promote the development and application of geosciences and related engineering subjects, to promote innovation and technical progress and to foster the communication, fellowship and cooperation between those working in, studying or otherwise being interested in these fields.
---
May 2009
Marta Swierczek, an ECOSSE PhD student jointly supervised by John Underhill (University of Edinburgh), Helen Lever (Heriot-Watt University) and Dave Milward (BGS), has successfully won an American Association of Petroleum Geologists (AAPG) Grant-In-Aid Award to support her PhD research studies. The funding will go to support her work on the effect that the Base Permian Unconformities has on fluid flow processes and Carboniferous reservoir prospectivity in the Southern North Sea. The award that she was given is entitled the Harold J. Funkhouser Memorial Award.
---
April 2009
A series of events were held in Edinburgh to celebrate the 80th birthday of Professor Sir Michael Atiyah, who is widely regarded as one of the most influential mathematicians of the 20th century. Further details can be found here.
---
Apr 2009
The BBC news website has an article about a new project that will involve predicting climate change effects by using algorithms, that is being undertaken by the Centre for Numerical Algorithms and Intelligent Software (who are closely linked with the Maxwell Institute), with funding from the Engineering and Physical Sciences Research Council and the Scottish Funding Council.
See the news article here, and a more detailed BBC Radio 4 blog entry here.
---
Mar 2009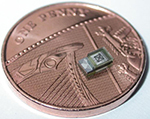 Researchers from the IIS JRI have collaborated to design, fabricate and package a micromachined three-axis accelerometer for heart bypass surgery applications. Further details on this MEMS device are available from the IIS website here.
---
Feb 2009
Dr Harald Haas of the SIP JRI has received nearly 700,000 Euros from the German Federal Ministry of Economy for the development of a wireless light-based communication technology in aircraft cabins. A cornerstone of the system is an optical interface for data coded light signals of light-emitting diodes (LEDs), which allows for electromagnetic compatible, intelligent data transmission under the specific conditions aboard an aircraft while at the same time achieving a significant weight reduction of the aircraft through reduced wire usage.
The project has been reported in major German newspapers such as "Die Welt" (german language):
http://www.welt.de/welt_print/article3081960/Morsen-mit-Licht-im-Passagierjet.html
---
Feb 2009
The BBC news website has an article on research carried out in the IIS JRI. The research was into the development of a technique which allows neurons to grow in fine detailed patterns on the surface of tiny computer chips and which could eventually enable chips to replace damaged nerve or muscle fibres.
News article here.
---
Jan 2009
Successes for ERPem institutions in the RAE 2008 results
The School of Engineering and Electronics at the University of Edinburgh (which forms part of 4 JRIs within ERPem), formed in 2002, is 3rd in the UK (1st in Scotland) for research quality and quantity. The Research Fortnight RAE 2008 Analysis Power Rankings, which ranks departments by both the quality and quantity of research, calculates that the top 2 are Cambridge and Oxford. Heriot-Watt University is also ranked highly, coming 6th out of 49 listed institutions.
55% of the research at the School of Engineering and Electronics is either world-leading or internationally excellent and all of the research is deemed to be internationally recognised. This is an extremely encouraging result that recognises the quality, scope and volume of research in the interdisciplinary Research Institutes of the School, addressing major research challenges that include Energy, Bio-Engineering and Fire Safety.
As reported in Nature for ECOSSE their staff in Edinburgh were judged the top institution for the number of staff in Earth & Environmental Science who were rated world-leading or internationally excellent. 65% of the research at the Heriot-Watt University Institute for Petroleum Engineering, which forms part of ECOSSE, was classified in this category by the Engineering panel.
The results in both pure and applied mathematics were outstanding. In Pure Mathematics 70% and Applied Mathematics 65% of the Maxwell Institute research is either world-leading
or internationally excellent and all of the research is deemed to be internationally recognised. The Maxwell Institute rates 3rd behind Oxford and Cambridge in Pure Mathematics, Applied Mathematics stands in 5th place. Furthermore, by the same measure, Statistics and Operations Research also ranks 5th in the UK.
---
Jan 2009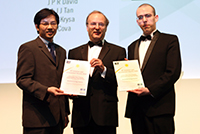 Dr Stewart Smith, a University of Edinburgh researcher based at the Scottish Microelectronics Centre (and also of the IIS JRI), recently attended the prestigious annual awards ceremony of the Institution of Engineering and Technology (IET) in London. Along with his colleague, Dr Tong-Boon Tang, they received the IET Nanobiotechnology Premium Award on behalf of their colleagues from Mr Chris Earnshaw, President IET, for a paper published in 2007 entitled "Development of a miniaturised drug delivery system with wireless power transfer and communication".
The paper describes the design and fabrication of a silicon based, implantable, drug delivery system which was produced in the clean rooms at the SMC. This work was funded by the Japanese company, Senju Pharmaceuticals and involved collaboration between researchers at the SMC and clinicians based at Edinburgh's Princess Alexandra Eye Pavilion.
---
Jan 2009

Professor Ian Underwood, Head of the Institute of Integrated Micro and Nano Systems at the University of Edinburgh (and also of the IIS JRI) was delighted to be appointed to the Scottish Science Advisory Council (SSAC) in October 2008.
The SSAC is a select group of nineteen experts who provide independent advice to the Scottish Government on science, engineering and technology, including the wider opportunities arising from them. The SSAC also advises on the impact of new scientific thought and offers recommendations on science strategy, policy and priorities. All of this is channeled through the Chief Scientific Adviser for Scotland and co-Chair of the SSAC, Professor Anne Glover.
Professor Underwood is recognised worldwide as an authority on display and micro display
technology in particular. In 1999 he co-founded MicroEmissive Displays (MED) and was recently elected to Fellowship of the Royal Academy of Engineering and the Institute of Physics in 2008.
Professor Underwood, who is based at the Scottish Microelectronics Centre, plans to continue to devote time and effort to knowledge transfer including the commercialisation of new technology, particularly through spin-out and start-up companies.
---
Dec 2008
A group involving researchers from the IIS JRI at Heriot-Watt University has won £4.8m funding for the new Optics and Photonics Technologies Centre. Professor Andrew Harvey is the leader of the new Centre, to be run in partnership with St Andrews, Strathclyde and Glasgow Universities. More.
---
Dec 2008
Harald Haas of the SIP JRI has been invited by Professor Zhang Ping (Beijing University of Posts and Telecommunications – (BUPT)) to join the Chinese "111 program". The Program is established and supported jointly by the National Bureau for Foreign Experts of China and the Ministry of Education of China. About 100 Guest Academic Talents Bases will be established in some selected universities in China during the period from 2006 to 2010. More.
---
Dec 2008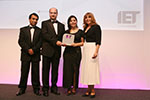 Mansour Ahmadian and Jila Nazari, former SIP JRI research students, received the IET 2008 innovation award in November for "Software in Design". They are shown in the photo at right (click on the thumbnail for a larger version) being presented with the award on behalf of their employer Sundance DSP for their entry "Generating Parallel Applications Automatically From Simulation Models". More.
---
Nov 2008
The workshop 'Mathematical Problems in Fire Safety Engineering' was organised by Heriot-Watt University and the University of Edinburgh on Oct 31st 2008, at the International Centre for Mathematical Sciences, Edinburgh. Six speakers gave invited talks on the topic and more than 30 people attended. Some of the presentations are available on the workshop page (link below). Funding was provided by the ERPem Bridging the Gaps programme.
More information:
http://www.icms.org.uk/workshops/fire
http://edinburghfireresearch.blogspot.com/2008/10/maths-fire-engineering-workshop.html
---
Oct 2008
A statue of scientist James Clerk Maxwell will be unveiled in Edinburgh on 25th November. Senior staff in the Maxwell Institute made a substantial personal contribution to the appeal for funds to finance the statue.
For a scientist of James Clerk Maxwell's stature, there are few memorials to him. In 2006, the 175th anniversary of his birth raised his profile in his home city and the Royal Society of Edinburgh (RSE), of which Maxwell had been a Fellow, initiated plans for a statue of him. A prime site was identified on George Street, in the heart of the "New Town", and close to the present building of the RSE. Showing Maxwell seated, and dressed in costume of his time, the statue will be cast in bronze. Planning permission has now been obtained and the project has widespread support. The statue will be unveiled by the Presiding Officer of the Scottish Parliament on 25 November 2008 accompanied by a major international conference on Maxwell.
More information here.
---
Sep 2008
Professor Peter Grant, the Director of ERPem, was invited and sponsored by UK Trade and Investment to join a 12 company delegation to Japan in September 2008. He presented keynote addresses on MIMO research at the Institute for Digital Communications (IDCom), School of Engineering & Electronics, University of Edinburgh (part of the SIP JRI) in both the Osaka and Tokyo seminars. He also gave a press interview with Dempa Publications, to be published (in Japanese) in their 15002 edition of "Radio and Data Communications".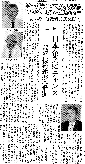 At left is the press interview from the Dempa Shimbun newspaper. The two other people pictured in the article along with Prof. Grant are Prof. Hanzo from Southampton University and John Davies from UK Trade and Investment.
Click on thumbnail for larger image. Japanese language.
Professor Grant was also interviewed by Semiconductor Portal Inc. who will also shortly feature University of Edinburgh IDCom research at: http://www.semiconportal.com.
---
Sep 2008
ECOSSE forges ahead
On its third birthday ECOSSE has been able to report significant successes in its annual report to the Scottish Funding Council.
Total income this year, from joint projects with partners in ECOSSE or the parent Edinburgh Regional partnership in Engineering and Mathematics and awards to new staff, was £5,758,741. Cumulative research income from ECOSSE is now £9.7M over three years, compared to a total initial SFC investment of £1.8M, a gearing of over five to one so far, with two years still to run on the initiative.
Twelve new PhD students jointly supervised by two or more of the collaborating institutions started in 2007/8. ECOSSE's graduate School now totals 21 PhD students. This is the single largest area of joint research activity at present. The portfolio is broad and covers a variety of funding sources and collaborations, all in collaboration between Edinburgh, Heriot-Watt, SUERC and the BGS.
For a full report see here (requires authentication; contact Edward Boyle at edward.boyle@ed.ac.uk for access).
---
Aug 2008
New ERPem Chair joins IIS
Professor Ron Pethig, ERPem Chair in Micro Nano Systems, has now joined the IIS JRI. Appointed in May, Prof. Pethig took up the position on Monday 1st September 2008 following a summer researching at the Woods Hole Marine Biological Laboratory. His main research area is bio-sensors.
---
Aug 2008
New Professor appointed to ECOSSE
Prof. Dorrick Stow, currently of the University of Southampton, will take up the ECOSSE Chair on 1st October 2008, at Heriot-Watt University. His is the final and most senior of 8 new staff appointments enabled by ECOSSE. Dorrick's main research area is in deep sea sedimentary processes, their interactions with deep ocean environments and currents, and past environmental change.
---
July 2008
Prof. José Torero, of the Institute for Infrastructure & Environment, School of Engineering & Electronics, University of Edinburgh (part of the CEE JRI) has received the 2008 Arthur B. Guise Medal from the Society of Fire Protection Engineering. More.
---
July 2008
Researchers in the Institute for Integrated Micro and Nano Systems, School of Engineering & Electronics, University of Edinburgh (part of the IIS JRI) have developed a technology that allows a variety of biological cells and therefore tissue types to be grown along chosen pathways on silicon chips. Following a large collaborative project with Glasgow and Stirling Universities, funded by EPSRC, PhD work performed by Evangelos Delivopoulos, with Alan Murray, has shown that neurons can be grown along pathways on silicon defined as part of the chip's design process. More.
---
July 2008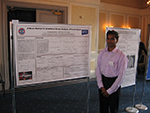 Vijayabaskar Narayanamurthy, a first year PhD student supported through the CEE JRI recently won the 'Best Poster in Structures Award' at The International Conference on Structures and Granular Solids: from Scientific Principles to Engineering Applications hosted by the Royal Society of Edinburgh. The title of the poster was 'A novel method for the interfacial stress analysis of plated beams' and the project is jointly supervised by Dr. John Cairns, Senior Lecturer in the School of the Built Environment at Heriot Watt University and Dr. Jian-Fei Chen, Reader in the Institute for Infrastructure and the Environment at the University of Edinburgh.
---
June 2008
Finn Donaldson, a PhD student in the Institute for Infrastructure & Environment, School of Engineering & Electronics, University of Edinburgh (part of the CEE JRI), has been awarded the Robertson Medal by the Carnegie trust for submitting the most outstanding research proposal in the 2007 competition. In addition to the Medal, he will receive a Carnegie Scholarship to pursue his PhD at Edinburgh University under the supervision of Dr Pankaj Pankaj and Prof Hamish Simpson. More.
---
June 2008
Dr Barbara Lane (formerly of the Institute for Infrastructure & Environment, School of Engineering & Electronics, University of Edinburgh, part of the CEE JRI), now Associate Director, Arup, has been awarded The Royal Academy of Engineering Silver Medal 2008. This award recognises outstanding and demonstrated personal contribution to British engineering, which has resulted in successful market exploitation. Barbara's achievement is in establishing an innovative design skill based on advanced analysis and the latest research knowledge which has led to practical and commercially valuable solutions for Arup's major clients worldwide. More.
---
June 2008
The Royal Society of Edinburgh is organising a major two day conference in Structures and Granular Solids. The event will bring together a significant group of eminent researchers from around the world for an important scientific meeting in these two related and interacting fields, with a unique theme of bridging the gap between the development of new scientific understanding and its application to solve practical engineering problems. The conference will be held at the Royal Society of Edinburgh, in the heart of the city's New Town. This conference is also being held in celebration of the 60th birthday of Professor J. Michael Rotter, deputy director of the CEE JRI. More.
---
June 2008
John Gormley, Irish Minister for Environment, Heritage and Local Government, visited the first large-scale Integrated Constructed Wetland (ICW) treating domestic wastewater at the Castle Lesley Estate near Monaghan, Ireland. The Irish ICW Concept is a novel environmentally friendly and sustainable ecological engineering technique that provides effective, robust, economical and low maintenance systems for the treatment of all water-vectored pollution including effluents and runoff. In fundamental contrast to traditional wastewater treatment plants, which are cut-off from the public and wildlife, ICW are also designed for sustainable drainage, good landscape fit, and biodiversity, habitat and amenity enhancement.
Dr Miklas Scholz, Senior Lecturer at The University of Edinburgh (Institute for Infrastructure & Environment, School of Engineering & Electronics, part of the CEE JRI) and Visiting Professor at Nankai University (China), emphasized in lively discussions with Minister Gormley that "The ICW Concept confidently addresses stringent treatment targets set by drivers such as groundwater protection regulation, the Urban Wastewater Directive and the Water Framework Directive." Minister Gormley was impressed by the innovative ICW Concept and subsequently enquired about the required footprint of large-scale ICW systems. Dr Scholz replied that "The site-specific design by Dr Rory Harrington and Mr. Dan Doody is based on simple but robust design calculations incorporating the source to wetland area ratio, wetland cell geometry and total cell number with the aim to minimize land take." More.
---
May 2008
Clean water for children in the poorest places on earth could become a reality if engineers tackled the problem in new ways, an expert claims. Professor Andrea Schäfer of the University of Edinburgh (Institute for Infrastructure & Environment, School of Engineering & Electronics, part of the CEE JRI) claims that in many countries, one in five children die before their fifth birthday because of a lack of clean water, and many more, often girls, miss out on school because they have to walk for miles to fetch water or use a toilet. More.
---
May 2008
Buildings could be better designed against the dangers of fire thanks to research at the University of Edinburgh. Structural engineer and fire expert Dr Luke Bisby will join the Institute for Infrastructure & Environment, School of Engineering & Electronics (part of the CEE JRI) in May and is to focus on improving the fire safety of both traditional and new building materials and methods of building repair. More.
---
April 2008
Professor Janusz Bialek from the Institute of Energy Systems, School of Engineering & Electronics, University of Edinburgh (part of the Energy JRI) has been appointed a member of the Dispute Resolution Panel for the Single Electricity Market Operator in Ireland. The Panel aims to resolve any disputes arising in the newly-formed energy market in Ireland. More.
---
April 2008
Mr Henry Jeffrey, a Research Associate in the Institute of Energy Systems, School of Engineering & Electronics, University of Edinburgh (part of the Energy JRI) has been appointed to an international panel of renewable energy and business experts to evaluate applications for funding to develop marine energy in New Zealand. More.
---
March 2008
Two members of the School of Engineering & Electronics, University of Edinburgh, Professor Robin Wallace (director of the Energy JRI) and Iain Roberts, will be giving talks at the Edinburgh International Science Festival 2008. More.
---
March 2008
Congratulations to Professor Robin Wallace, head of the Institute for Energy Systems, School of Engineering & Electronics, University of Edinburgh (part of the Energy JRI) and Professor Jose Torero, BRE Trust/RAEng Prof. of Fire Safety Engineering, (Institute for Infrastructure & Environment, School of Engineering & Electronics, University of Edinburgh, part of the CEE JRI) who have been elected as Fellows of the Royal Society of Edinburgh. More.
---
February 2008
Researchers at the Institute for Integrated Micro & Nano Systems, School of Engineering & Electronics, University of Edinburgh (part of the IIS JRI) are developing a device that could be permanently implanted into the body and would be capable of delivering daily doses of a drug for up to one year. Patients who need regular medication could have it delivered by a microscopic implant controlled by wireless technology, according to research published in the Institution of Engineering and Technology Nanobiotechnology journal. More.
---
February 2008
Four researchers from the University of Edinburgh who played a key role in the development of the mobile phone camera will be honoured at a ceremony in London on Monday, 4 February. The electronic engineers will be awarded the Rank Prize for their work in developing and commercialising technology which is used every day by millions of people. Peter Denyer, David Renshaw (Institute for Integrated Micro & Nano Systems, School of Engineering & Electronics, part of the IIS JRI), Wang Guoyu and Lu Mingying will receive the £80,000 prize - set up by the late Lord Rank to recognise scientific advances that have benefited mankind - for their camera design work which began in the early 1980s. More.
25 January 2008
A new ERPem-funded 'e-classroom' facility has been constructed and is now ready for the use of ERPem Engineering JRIs. It is located in the Sanderson Building on the King's Buildings campus of the University of Edinburgh.
This e-classroom contains vidoeconferencing and multimedia tools to enable joint lectures and seminars to take place interactively and collaboratively between remote locations (such as between the University of Edinburgh and Heriot-Watt University). The SIP JRI will carry out the first seminar using the room on Wednesday 30th January (see details of this seminar here).
A similar facility for the ECOSSE JRI is currently in the planning stage and will be sited in the Grant Institute, also at the King's Buildings campus.
More information about the e-classroom is available here.
---
22 January 2008
The ERPem Annual Advisory Group meeting took place on the 17/18 January, at which the ERPem Annual Report was discussed. There was very positive feedback on progress over the past year, and a report detailing advice and findings from the meeting will follow in the future.
The ERPem Director, Professor Peter Grant, would like to thank JRI members who were involved in the posters and presentations given at the meeting and would also like to thank Advisory Group members who came from as far afield as the USA.
---
14 December 2007
The ERPem website has been redesigned. The content of the existing website has remained, but some new links on the right-hand side of each page give information about news, events, seminars, publications and vacancies across the various research institutes that comprise ERPem. This information will hopefully be presented in a more standardised way in the future.
In the near future, the webpages of the JRIs will be updated and redesigned as well, and new sections like Research Themes will be developed.
---
8 November 2007
The Scottish Research Partnership in Engineering (SRPe) was launched today at an event in Glasgow.
A news article about the launch on the Heriot-Watt University website
ERPem posters from the launch event:
---
27 June 2007
Workshop to establish ideas for SRPe strategic themes (between ERPem, GRP and NRP) held at Heriot-Watt University. For more information see links below:-
---
1 December 2006
Engineering research to benefit from multi-million pound investment
SFC news release:
http://www.sfc.ac.uk/news/sfc/2006/sfcpr3506/sfcpr3506.html
---
December 2006
ERPem wins funding for 6th JRI
As part of the package that will fund the creation of the Glasgow Research Partnership in Engineering and the Northern Research Partnership in Engineering (and the overarching Scottish Research Partnership in Engineering), ERPem receives funding for a 6th JRI in Civil and Environmental Engineering.
Value = £1,020,000
Science and Innovation Award: Centre for Analysis and Nonlinear Partial Differential Equations
Nonlinear partial differential equations (PDE) are of universal applicability in the modelling of real-life situations from the flow of air around a wing to the behaviour of financial markets. They are also a natural language for describing the laws of mathematical physics and differential geometry. Their study poses profound intellectual challenges to pure mathematicians as well as important computational problems where accurate numerical data is required in specific applications.
Despite its international importance and intense research activity on several fronts, including important breakthroughs in recent years, the UK appears to lag behind its competitors in this area. The present proposal is to establish the Centre for Analysis and Nonlinear Partial Differential Equations, run jointly by the University of Edinburgh and Heriot-Watt University at Edinburgh.
This centre will improve the UK's current position through a number of specific actions:
appointment of outstanding researchers in areas under-represented in the UK
a programme of instructional workshops open to researchers in the UK and beyond
two major research workshops on current trends and developments in nonlinear PDE
a substantial visitor programme to bring the world's best researchers to the UK to give high-profile lectures and establish new research contacts
development of new research links with industry and other interested parties
development of new undergraduate and graduate courses in analysis aimed at meeting the needs of the next generation of researchers
The proposal comes from the Maxwell Institute of Mathematics, which is a new joint venture combining the strength of mathematical sciences at the University of Edinburgh and Heriot-Watt University. Funded by the Scottish Funding Council and the Office of Science and Technology, the Maxwell Institute aims to be a pre-eminent centre for research and post-graduate training in the mathematical sciences, offering an environment able to attract and foster the very best mathematical talent from around the world. The Maxwell Institute is one of five joint research initiatives, the others covering a wide range of topics in engineering and geoscience.
The present bid will take advantage of the Maxwell Institute's position alongside the other joint research initiatives to develop new collaborations and applications of nonlinear PDE in these areas. The other distinctive feature of this proposal is the presence of the International Centre for Mathematical Sciences (ICMS) which is a joint initiative of the mathematicians at Edinburgh and Heriot-Watt which was set up in 1990. Since then ICMS has developed a reputation for the running of high-level international instructional and research workshops, and the infrastructure it provides will be crucial in organizing the proposed workshops. At the same time, these workshops provide a broadening of ICMS's current activities and will add to its international reputation.
The new research grouping will be managed by a Scientific Steering Committee composed of two mathematicians from each of University of Edinburgh and Heriot-Watt University, and also including at least one representative from industry and at least one person from overseas. The committee will be regularly consulted, especially on the workshop and visitor programmes.
Value = £1,299,378
---
September 2006
Bridging the Gaps Between Engineering and Mathematics in the Edinburgh Research Partnership
The Edinburgh Research Partnership in Engineering and Mathematics was established recently, linking key groups in Edinburgh and Heriot-Watt Universities. This is completely changing the research environment at the two institutions, and this period of change and realignment offers a unique opportunity to extend the commitment to multidisciplinary working in both institutions.
This project is focused on creating new collaborations between mathematical sciences and engineering through a range of pump-priming activities designed to break down the barriers (including lack of time and opportunity) to multidisciplinary collaborations, and to encourage the building of novel and lasting collaborations from the ground up. The activities include scoping workshops, working in pairs (a concentrated period for people from different subjects to work together), mathematician/engineer in residence (immersion in a different discipline) and a visitor and seminar programme.
Academic staff in the ERPem (and subject areas relevant to this call) will be encouraged to apply to our Selection Panel for backing to carry out pump-priming activities, and we will respond quickly with support for promising proposals.
Value = £388, 348