The Heriot-Watt Postgraduate Centre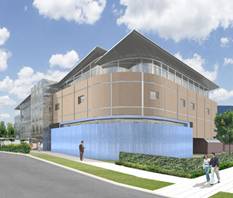 The opportunity to meet and interact professionally and socially across the disciplines and on an international scale is often taken for granted in academe. At Heriot-Watt, the community of postgraduate students undertaking taught and research courses is 1,500 strong and has representation from around 100 countries. Around two thirds of the on-campus students are from countries outside of the UK. There is huge opportunity for cross-cultural and interdisciplinary interaction.
At the research level, times are changing for both postgraduates and research staff. Recognised by the 2002 Roberts Review, and promoted by all of the UK Research Councils, the perceived benefits of development in transferable research skills has led to programmes in which students from all disciplines meet and learn together. Similar training is embedded in postgraduate Masters and Diploma courses.
Research pooling amongst the Scottish Universities is leading to multi-site lectures, tutorials and research-group meetings, enabled by virtual conferencing. Expanding collaborations with industry and the commercial sector, always a strong feature at Heriot-Watt mean that more than ever there is a need for a neutral forum for meetings, real or virtual, where fertilisation of ideas crossing the disciplines can take place.
Heriot-Watt University has taken a lead amongst UK Higher Education Institutes in establishing a Postgraduate Centre – a landmark new building, dedicated to the promotion of postgraduate taught course programmes, researcher training, and professional research interactions within and outwith the University.
The 6.8 million pound building is sited at heart of the Riccarton campus and will house: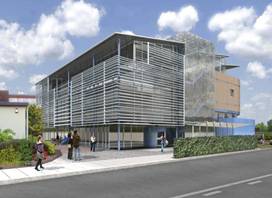 150-seater lecture theatre
seminar rooms of 80, 50 and 30 capacity
meeting rooms
postgraduate study and social space seating over 100 students
a café and reception-exhibition area
The entire building has wifi access and there are data and power points throughout. The lecture, seminar rooms and one meeting room have video-conferencing facilities.
Timetabling of the lecture/seminar rooms is subject to bids with priority during the regular semester weeks given to the larger Masters classes and the Researcher Development Programme.
Establishment of the Postgraduate Centre was approved by the University Planning & Management Executive in May 2005. The site itself was cleared in January 2006. The architectural team, Hypostyle Architects, was appointed in February that year. Following detailed design and tendering stages the construction contract was awarded to Interserve Building early in 2007. Construction began in June 2007. The Centre opens early in 2009.